Mimi Chamois translates beauty, comfort and quality into luxurious footwear. We believe that every woman has the right to wear fabulous shoes that take them comfortably wherever they want to go, looking their best. We do that by combining technology and design with the best materials and production techniques on the market.
Michelle Chamois' designs bring forth her roots, the creativity of Brazil and the sensuality of France, with a deep understanding of women's psyche and the practical needs of a modern woman, always on the move. Mimi is convinced that no one's feet need to suffer to look amazing and, based on that belief, she has created and patented the Mimi Lift.
Mimi Lift
The Mimi Lift is a patented technology made to "elevate" the woman's walk. Underneath every single shoe, Mimi Chamois adds an extra layer of comfort and elegance that stabilizes the walk and softens the steps, so you can go as far as you want to go with no hindrance or discomfort. The sky's the limit!
Take a moment to discover our new collection and allow yourself the experience of walking on our Mimi Lift.
Remember, you deserve the best.
MIMI CHAMOIS IS BORN
It all started somewhere in the 90s, when a little girl tried on her mother's high heels and realised there was a special power to them, a special element about feeling more feminine.
Some years later this girl went on to create Mimi Chamois, a brand that drinks from this power and the need to innovate, to play the game by different rules. Mimi Chamois is more than a brand of designer shoes, it embodies her desire to help you walk this world in a new fashion."
Mimi's family owned shoe business
From an early age, Michelle had access to the backstage of her family's shoe business, where she learned from the masters how great shoes are made.
Mimi's first release
At the end of 2019, Mimi launches her first line of shoes under the then named C'Moi Shoes. Her first creation was the Viviane Boots, this dazzling and daring design which is a top-seller to this day.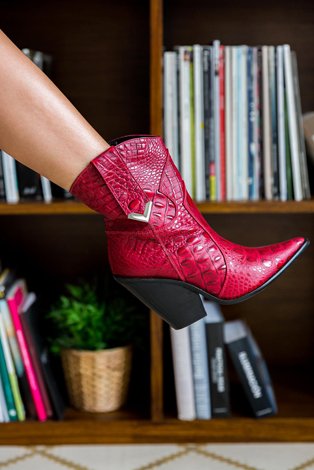 2022, a year of evolution
Year of the official launch
This is the year of the official launch of the Mimi Lift, the game-changing technology developed by Mimi Chamois to grant more comfort and stability with a special rubber.
This patented sexy red suit under each sole makes these shoes even more exclusive, even more empowering, as they allow you to go anywhere for as long as you need without hurting your feet.
C'Moi becomes Mimi Chamois
Part of this revolutionary year for the brand is that we decided to rebrand! The diamond logo stays the same but the name Mimi Chamois carries with it the strength that these shoes represent